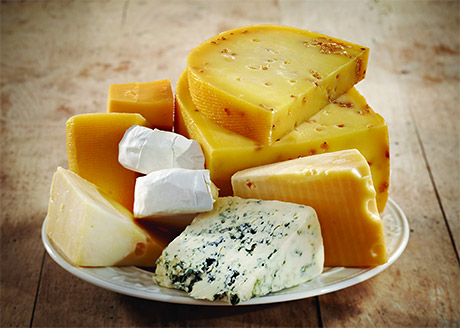 Cheese Concentrates are highly versatile and can be used in a wide range of food applications as a cost effective substitute for natural cheeses. With flavour strength of up to 15 to 20 times that of the standard cheese, Cheese Concentrates can be used from as low as 0.2%. Cheese Concentrates are available in convenient to use paste and powder formats and shelf life is from 6 to 12 months.
Cheese Concentrates are excellent in cheese sauces and ready meals, e.g. pasta dishes, macaroni & cheese, risottos and soups. In the bakery sector, Cheese Concentrates are found in crackers, cheese croissants, bread and breadsticks.
In processed cheese, Cheese Concentrates can be used to replace mature cheese partially or fully. Cheese Concentrates provide great flavours in salads dressings, dips and in the snack sectors it can be used in puffed cheese snacks, seasonings for chips, nachos and popcorn. Cheese Concentrates are ideal on low fat applications where it delivers the same cheese flavour at a fraction of the fat, calorie and cholesterol content. The lists of applications are endless.
Our team of Food Scientists and Applications Technologists can help you select the correct products and usage rate for your needs. We can develop new or custom made Cheese Concentrates to meet our customers' requirements.
Functions and Benefits of Cheese Concentrates
Made from natural cheese and dairy ingredients
Authentic cheese profiles, including US , Canadian and European
Excellent performance in low fat applications
Cost effective allowing replacement or reduction of Cheese in a variety of applications
Smooth balanced flavours
Consistent flavour and flavour delivery
Clean label declaration (natural)
Applications
Processed cheese products, analogue cheese
Cheese sauces – white sauce , béchamel sauce
Bakery – crackers, cheese croissants, artisan bread, breadsticks
Ready meals – pasta dishes, e.g. macaroni cheese, risottos
Snacks – puffed cheese snacks, seasonings for crisps, popcorn, nachos
Salad dressings – blue cheese, Caesar
Dips
Low fat products
Cheese Concentrate Products
Product Code
Cheese Concentrate
Format
Flavour Profile
Usage Level
10066-1020
Mild Cheddar
Paste
Mild savoury cheddar flavour*
0.2 – 3%
10067-1021
Mild Cheddar
Powder
Mild savoury cheddar flavour*
0.5 – 5%
10008-1000
Medium Cheddar
Paste
Medium savoury cheddar flavour*
0.2 – 2%
10009-1001
Medium Cheddar
Powder
Medium savoury cheddar flavour*
0.5 – 5%
10000-1005
Strong Cheddar
Paste
Sharp and aged flavour*
0.2 – 3%
10001-1006
Strong Cheddar
Powder
Sharp and aged flavour*
0.5 – 5%
10004-1010
Strong Cheddar Extra Savoury
Paste
Sharp and aged flavour*
0.2 – 3%
10005-1011
Strong Cheddar Extra Savoury
Powder
Sharp and aged flavour*
0.5 – 5%
10006-1015

10006-1035C

Extra Strong Cheddar
Paste
Very sharp and aged*
0.2 – 3%
10007-1016
Extra Strong Cheddar
Powder
Very sharp and aged. *
0.5 – 5%
10002-1040
Strong Farmhouse Cheddar
Paste
Very sharp and aged with sulphurous notes*
0.2 – 3%
10003-1041
Strong Farmhouse Cheddar
Powder
Very sharp and aged  with sulphurous notes*
0.5 – 5%
10010-1025C
Medium Aged Cheddar
Paste
Medium aged cheddar*
0.2 – 3%
10010-1026C
Medium aged cheddar
Powder
Medium aged cheddar*
0.5 – 5%
10060-3005
Swiss
Paste
Sharp, nutty notes
0.2 – 3%
10061-3006
Swiss
powder
Sharp, nutty notes
0.5 – 5%
10020-4005

10020-4010C

Blue
Paste
Sharp, tangy savoury, creamy. Danish, stilton and Roquefort profiles available. Coloured.
0.2 – 3%
10021-4006

10021-4011C

Blue
Powder
Sharp, tangy savoury, salty, Danish, stilton and Roquefort profiles available. Coloured.
0.5 – 5%
10068-4000
Blue
Paste
Sharp fruity flavour profile, uncoloured
0.2 – 3%
10069-4001
Blue
Powder
Sharp fruity flavour profile, uncoloured
0.5 – 5%
1042-2005
Parmesan
Paste
Sharp parmesan flavour with buttery notes
0.2 – 3%
1043-2006
Parmesan
Powder
Sharp parmesan flavour with buttery notes
0.5 – 5%
10044-2010
Parmesan
Paste
Aged parmesan flavour with rounded savoury notes
0.2 – 3%
10045-2011
Parmesan
Powder
Aged parmesan flavour with rounded savoury notes
0.5 – 5%
10046-2015

10046-2020C

Parmesan
Paste
Sharp, aged  piquant flavour
0.2 – 3%
10047-2016

10047-2021C

Parmesan
Powder
Sharp, aged  piquant flavour
0.5 – 5%
10062-6005
Goat
Paste
Sharp, wholesome, rich goaty
0.2 – 2%
10063-6006
Goat
Powder
Sharp, wholesome, rich goaty
0.5 – 3%
10064-5000
Asiago
Paste
Sharp, aged, rich, nutty
0.2 – 3%
10065-5001
Asiago
Powder
Sharp, aged, rich, nutty
0.5 – 5%
Cheese Concentrates Applications
Usage Levels (%) for Cheese Concentrates in a selection of typical applications
Cheese Concentrate
Format
Sauces
Dips
Dressings
Snacks
Quiche Filling
Bread / Savoury pastries
Processed /Analog Cheese
Savoury Snacks
Snack Seasonings
Mexican Cajeta/

desserts

Mild Cheddar
Paste
0.2-1.5
0.2-1.5
0.2-1.5
0.2-1.5
0.2-2.0
0.5 -2.5
1.0-3.0
0.5 -2.0
 –
Mild Cheddar
Powder
0.5-3.0
0.5-3.0
0.5-3.0
0.5-3.0
0.5-4.0
0.5 -3.0
–
1.0 -4.0
2-10
Medium Cheddar
Paste
0.2-1.5
0.2-1.5
0.2-1.5
0.2-1.5
0.2-2.0
0.5 -2.5
1.0-3.0
0.5 -2.0
 –
Medium Cheddar
Powder
0.5-3.0
0.5-3.0
0.5-3.0
0.5-3.0
0.5-4.0
0.5 -3.0
–
1.0 -4.0
2-10
Strong Cheddar
Paste
0.2-1.5
0.2-1.5
0.2-1.5
0.2-1.5
0.2-2.0
0.5 -2.5
1.0-3.0
0.5 -2.0
 –
Strong Cheddar
Powder
0.5-3.0
0.5-3.0
0.5-3.0
0.5-3.0
0.5-4.0
0.5 -3.0
–
1.0 -4.0
2-10
Strong Cheddar Extra Savoury
Paste
0.2-1.5
0.2-1.5
0.2-1.5
0.2-1.5
0.2-2.0
0.5 -2.5
1.0-3.0
0.5 -2.0
 –
Strong Cheddar Extra Savoury
Powder
0.5-3.0
0.5-3.0
0.5-3.0
0.5-3.0
0.5-4.0
0.5 -3.0
1.0 -4.0
2-10
Extra Strong Cheddar
Paste
0.2-1.5
0.2-1.5
0.2-1.5
0.2-1.5
0.2-2.0
0.5 -2.5
1.0-3.0
0.5 -2.0
 –
Extra Strong Cheddar
Powder
0.5-3.0
0.5-3.0
0.5-3.0
0.5-3.0
0.5-4.0
0.5 -3.0
–
1.0 -4.0
2-10
Strong Farmhouse Cheddar
Paste
0.2-1.5
0.2-1.5
0.2-1.5
0.2-1.5
0.2-2.0
0.5 -2.5
1.0-3.0
0.5 -2.0
Strong Farmhouse Cheddar
Powder
0.5-3.0
0.5-3.0
0.5-3.0
0.5-3.0
0.5-4.0
0.5 -3.0
–
1.0 -4.0
2-10
Medium Aged Cheddar
Paste
0.2-1.5
0.2-1.5
0.2-1.5
0.2-1.5
0.2-2.0
0.5 -2.5
1.0-3.0
0.5 -2.0
Medium Aged Cheddar
Powder
0.5-3.0
0.5-3.0
0.5-3.0
0.5-3.0
0.5-4.0
0.5 -3.0
–
1.0 -4.0
2-10
Swiss
Paste
0.2-1.5
0.2-1.5
0.2-1.5
0.2-1.5
0.2-2.0
0.5 -2.5
1.0-3.0
0.5 -2.0
 –
 –
Swiss
powder
0.5-3.0
0.5-3.0
0.5-3.0
0.5-3.0
0.5-4.0
0.5 -3.0
–
1.0 -4.0
2-10
 –
Blue
Paste
0.2-1.5
0.2-1.5
0.2-1.5
0.2-1.5
0.2-2.0
0.5 -2.5
1.0-3.0
0.5 -2.0
 –
 –
Blue
Powder
0.5-3.0
0.5-3.0
0.5-3.0
0.5-3.0
0.5-4.0
0.5 -3.0
–
1.0 -4.0
2-10
 –
Parmesan
Paste
0.2-1.5
0.2-1.5
0.2-1.5
0.2-1.5
0.2-2.0
0.5 -2.5
1.0-3.0
0.5 -2.0
 –
 –
Parmesan
Powder
0.5-3.0
0.5-3.0
0.5-3.0
0.5-3.0
0.5-4.0
0.5 -3.0
–
1.0 -4.0
2-10
 –
Goat
Paste
0.2-1.5
0.2-1.5
0.2-1.5
0.2-1.5
0.2-2.0
0.5 -2.5
1.0-3.0
0.5 -2.0
 –
0.5 -1.0
Goat
Powder
0.5-3.0
0.5-3.0
0.5-3.0
0.5-3.0
0.5-4.0
0.5 -3.0
–
1.0 -4.0
2-10
1.0 -2.0
Asiago
Paste
0.2-1.5
0.2-1.5
0.2-1.5
0.2-1.5
0.2-2.0
0.5 -2.5
1.0-3.0
0.5 -2.0
 –
 –
Asiago
Powder
0.5-3.0
0.5-3.0
0.5-3.0
0.5-3.0
0.5-4.0
0.5 -3.0
–
1.0 -4.0
2-10
 –