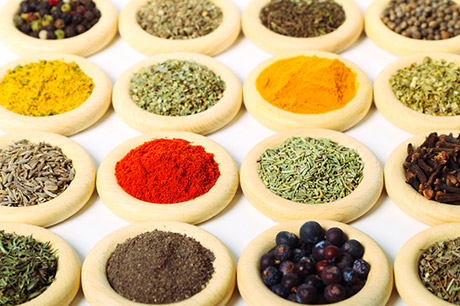 Our savoury flavours are manufactured using some of the finest ingredients from around the world. Our flavours at low dosage rates deliver an authentic flavour profile to a wide variety of our customers finished products.
We offer an extensive range of flavours that can tolerate the strenuous conditions during the cooking and processing stages of manufacture. C.P. Ingredients has extensive experience in developing Meat, Vegetable and Seafood flavours for our customers. C.P.
Ingredients also has the ability to develop new savoury flavours which allows C.P. Ingredients to offer extensive savour flavours tailored to our new and existing customers needs. Our meat flavours vary from roasted, boiled and braised dependant on the customers end requirement.
Herbs & spice flavours introduce an appetising 'kick' where some of these flavours can be lost through the high temperature cooking process, our savoury experts can deliver the right flavour for your application.
We offer a wide variety of seafood flavours from white fish to shell fish in an endless range of strengths. Our Savoury flavours are most commonly used within dairy processing, Snacks, sauces, dips, dressing, beverages and confectionery.

Savoury Flavours
| | | |
| --- | --- | --- |
| Curry | | |
| Garlic | | |
| Cayene pepper | | |
| Celery | | |
| Blue Cheese | | |
| Cheese | | |
| Chilli | | |
| Chive | | |
| Garlic | | |
| Lemongrass | | |
| Onion | | |
| Peanut | | |
| Peanut Butter | | |
| Pistacho | | |
| Smoke | | |
| Sour Cream | | |
| Sweetcorn | | |
Nut
| | | |
| --- | --- | --- |
| Almond | | |
| Chestnut | | |
| Hazelnut | | |
| Peanut | | |
| Peanut Butter | | |
| Pistacho | | |
| Walnut | | |
Meat & Fish
| | | |
| --- | --- | --- |
| Bacon | | |
| Beef | | |
| Chicken | | |
| Octopus | | |
| Rabbit | | |
| White Fish | | |
| Fish Oil | | |
Herb and Spice
| | | |
| --- | --- | --- |
| Basil | | |
| Bunspice (extensive range) | | |
| Capsicum | | |
| Cardamom | | |
| Cassia | | |
| Cayene pepper | | |
| Chilli | | |
| Chive | | |
| Cinnamon | | |
| Clove | | |
| Dill | | |
| Ginger | | |
| Liquorice | | |
| Nutmeg | | |

Natural,

Artificial