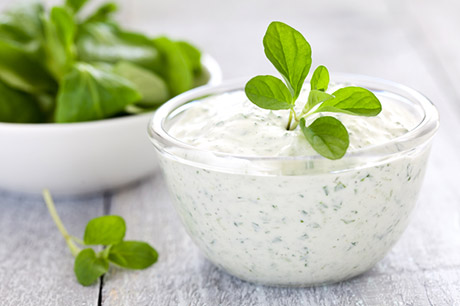 We supply a broad range of fermented dairy products in bulk and retail pack sizes, all of which are made from the finest dairy ingredients. Our cream cheeses have a smooth consistency with clean mild lactic flavour which are ideal for a wide range of sweet and savoury applications. Our speciality cheeses include liquid cheese and cooking cheese which have tailored flavours to meet customer specific applications/requirements.
Our sour cream is a fresh cultured cream with a mild lactic flavour and can be used as the basis for dips, dressings and sauces. Our Crème Fraiche is a richly smooth, lightly sour cultured cream which is ideal for sweet or savoury recipes. Our buttermilk has a clean lactic flavour with rich consistency and is ideal for baking and salad dressings. We supply a wide range of yoghurts from Greek style to pasteurised.
We have also created fermented dips, dressings and toppings with customer- specific flavours for a wide range of applications.
Our team of food scientists can develop new and custom made fermented products to meet your specific texture, flavour and functional requirements.
Cream cheese
Regular fat
Medium fat
Low fat
American style
Tailor made – Composition, Texture, Functionality
Speciality cheeses
Mascarpone
Liquid cheese
Cooking cheese
Chocolate cheese
Sour cream
Yoghurt
Greek style
Full fat
Medium fat
Low fat
Non fat
Probiotic
Pasteurised
Crème Fraiche
Buttermilk
Cultured (Light)
Cultured (Heavy)
Dips, Dressings & Toppings
Yoghurt dips
Sour cream dips
Crème Fraiche dips
Buttermilk Ranch dressings
Pizza & Bakery toppings